This draft seems to have an inordinate amount of undersized shooting guards in round 1, so let's sort through them:
Jalen Green (#2 ESPN)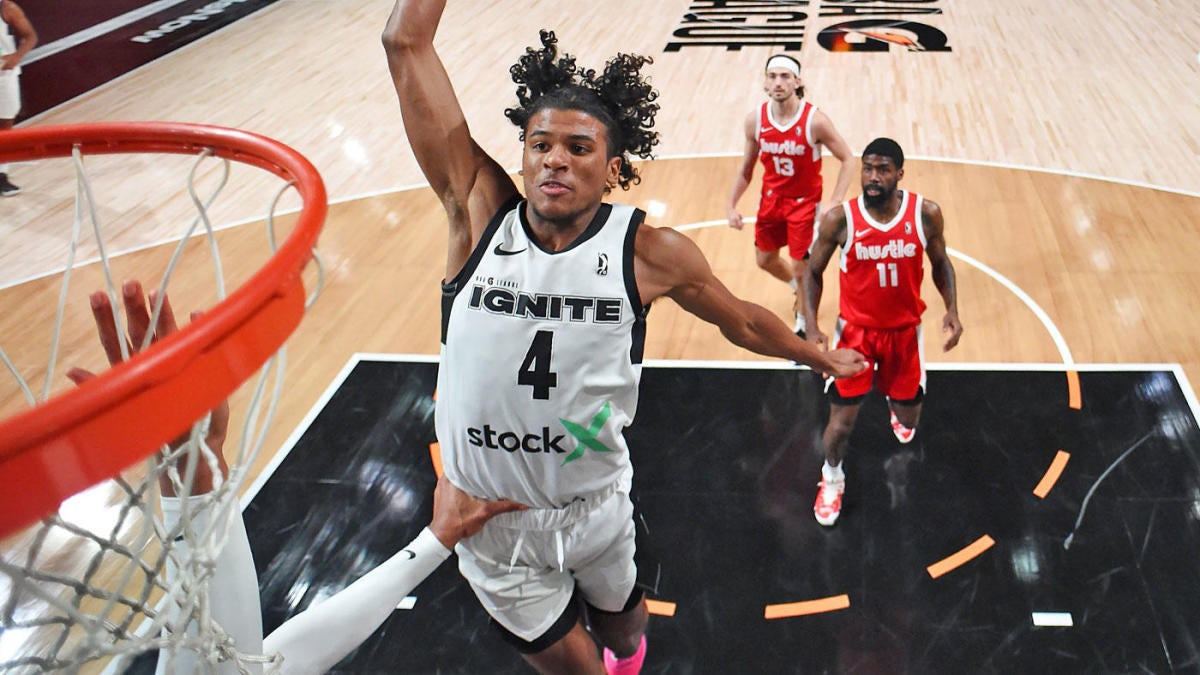 Green is the headliner of the class, currently projected to go #2 overall with outlier elite athleticism and highlight reel scoring ability.
His big flaw is that he is tiny for a shooting guard. He is listed at 6'6″ for G League Ignite, but so is Jonathan Kuminga. Based on any image of them standing next to each other, Kuminga is at least 2″ taller.
The most recent measurements available from Green came 2 years ago from Nike Skills Academy.
For a quick and dirty estimate, we can compare these measurements of a number of these players to their combine measurements to see how much these prospects grew on average:
If we use the laws of averages from this sample, Green would be 6'4.25″ in shoes with 6'7.5″ wingspan and weigh 180 pounds. That is a small player.
He is 3 months younger than the average player age in the sample, but he is also smaller and it seems less common for little guys to big growth spurts at this age. Further, the only two non-lotto picks from this sample to opt out of measurements were Sharife Cooper and Cam Thomas who measured 5'11.5″ and 6'1.5″ respectively, which indicates that they likely did not have significant growth spurts to show off to NBA teams.
His G League Ignite teammate Daishen Nix measured 6'4.25″, and in photos where they are next to each other it is difficult to tell who is the taller player.
If Green measured a fraction of an inch above 6'5″ in shoes, that would give him the biggest growth spurt in the class, which doesn't seem likely. And he certainly doesn't look like he filled out much in terms of strength.
Let's err on the side of generosity and give him an extra half inch relative to his law of averages dimensions and his listed weight at 180. Here are the NBA players who he is most physically similar to:
| | | | |
| --- | --- | --- | --- |
| | Height | Length | Weight |
| Jalen Green | 6'4.75 | 6'8 | 180 |
| Devin Booker | 6'5.75 | 6'8.25 | 206 |
| Zach LaVine | 6'5.75 | 6'8.25 | 181 |
| Bradley Beal | 6'4.75″ | 6'8 | 202 |
He even skews slightly smaller on this scale, as LaVine is 1″ taller and Beal + Booker are significantly beefier. Beal also played much bigger in college, with 4.7% and 18.2% offense and defense rebound rates and 2.6% block rate compared to Green's 1.9%/11.6% OR/DR and 0.8% BLK.
This trio also indicates approximately the peak of goodness for smaller SG's. All time greats like Michael Jordan, Kobe Bryant, and Vince Carter were all listed at 6'6″ with 6'11" wingspans and clearly stronger frames than Green. It doesn't seem like ~1″ height, ~3″ length, and ~15 pounds of muscle should make the different between all-time great and low end all-star like Zach LaVine, but based on NBA history it seems to have a substantial impact on attainable upside.
James Harden measured 6'5.25″ with 6'10'75" wingspan and 222 pounds, and was a megastud college player who is essentially a point guard in a SG body.
Dwyane Wade measured 6'3.75″ without shoes with 6'10.75″ wingspan and 212 pounds. He was a better college rebounder than 6'11.5″ Kai Jones and is the best shotblocking SG in NBA history, and functioned as much bigger than his size.
Ray Allen was 6'5, and there is no information on his wingspan but he rebounded similarly to Bradley Beal in college and became one of the greatest shooters in NBA history.
Essentially almost every great non-PG at 6'4 or 6'5 both was functionally bigger due to frame + length and played bigger in terms of rebounding and/or shotblocking, and Green fills none of these boxes. This makes his size a major red flag, even with his 99th percentile athleticism.
It makes sense, as these small guys can be bullied and hunted on defense, and by not being a floor general they often need another ball handler on the floor who tends to skew small. And it is difficult to consistently score over bigger players, so there is a cap on scoring efficiency for these little guys.
Athleticism is an extremely important physical tool, but it can only do so much for a player whose size and mold essentially caps his upside at low end all-star such as LaVine or Booker. The optimistic argument would be that Green is better than Zach LaVine at the same age, so maybe he can be better than LaVine longterm and be the best player in NBA history in this mold.
Yet that can all come to fruition and he can still not be a hall of fame caliber player, which is why it is difficult to see the case for him as a top 3 pick.
How Good are LaVine and Booker?
This is especially true when players like LaVine and Booker are extremely difficult to build around. Take the Phoenix Suns for instance–they have built around Booker perfectly, with Chris Paul finishing 5th in MVP voting, former #1 overall DeAndre Ayton blossoming into a quality NBA big this playoffs, and a cast of quality role players with no weak link. Yet they needed heavy injuries to opposing stars to even make the finals, and now that they are here they are down 3-2 with their game 2 win being massively luck driven shooting 20/40 from 3 vs 9/31 from the Bucks in a 10 point win. Game 2 could have easily been a double digit loss with neutral shooting luck.
And while Milwaukee is likely the 2nd best team in the NBA and a worthy champion, Phoenix was able to avoid playing the best team in Brooklyn after injuries to James Harden and Kyrie Irving caused them to fall short to the Bucks in 7.
Phoenix is around the 5th or 6th best team in the NBA and good enough to sniff a title with enough luck on their side. And if they win this year, it will have been due to extreme luck and they will be one of the weakest champions in NBA history.
On the bright side, you could say that Booker is good enough to be the 2nd best guy on a fringe NBA contender that isn't exactly loaded with star power, and if they had correctly taken Luka Doncic over DeAndre Ayton, they would have enough star power to win it all.
But if they had Doncic and Paul, what is the value of having Booker? If they have the option of a Doncic or CP3 pick and roll, Booker's ability to score in isolation and make difficult shots is not particularly useful as it is the least efficient option and comes with by far the weakest passing. And it is not worth paying him a max deal to stand in the corner and play like a glorified Anthony Morrow in a 3 minus D role.
This is the problem with this mold. Being small enough to get hunted on defense without being a natural floor general on offense is a massive double hit to a player's value. Booker is talented enough to be perhaps the 3rd best player on a good NBA champion, but to maximize his value he needs to be taking the most shots, which makes him incredibly difficult to build around. He essentially needs to be surrounded with the perfect blend of role players, and it is difficult to offer him a much better cast than Phoenix has without having star(s) that render his creation ability redundant.
Having a Booker type makes it easier to win 50+ games and be a threat to win a playoff series or two. But if you are picking top 3 and looking to change your franchise's fortunes and maximize future championship odds, how can you justify taking somebody who maxes out somewhere in the vicinity of Devin Booker's level? This badly caps your upside with a flawed player who is difficult to build around, while having bust risk just like anybody else.
Are We Sure he is not an Outlier?
One final sanity check for Green is to compare his G League #'s to Kobe Bryant's NBA rookie season. They are essentially the same player, except Kobe is 6.5 months younger and playing in the NBA instead of the G-League. And that is forgetting Kobe being in the minimum tier of dimensions and strength to be a hall of fame SG while Green misses the cut across the board.
Even if they seem close enough physically, Kobe has a sneakily significant size advantage. And that 6.5 month age gap is not trivial either at such a young age.
If Green is an undersized G League knockoff of Kobe, it is difficult to see how that amounts to a top 3 pick.
Granted, he could seem like a fine choice in retrospect if he becomes as good as Booker and LaVine and becomes a low end all-star. And perhaps he develops into a slightly better passer and defensive player than either and is the GOAT score first little guy. There aren't that many stud athletes who are competent at the G League level at a young age such that we can completely write him off.
But given the limited value of the mold and its difficulty to build around, Green is not a favorable valuable proposition relative to prospects like Evan Mobley, Cade Cunningham, Scottie Barnes, Jalen Suggs, Franz Wagner, or Alperen Sengun.
Green is still likely the best small SG in the draft, but it is not by as significant of a margin as his consensus rating will have you believe.
The Tennessee Boys: Jaden Springer (#29 ESPN) and Keon Johnson (#9 ESPN)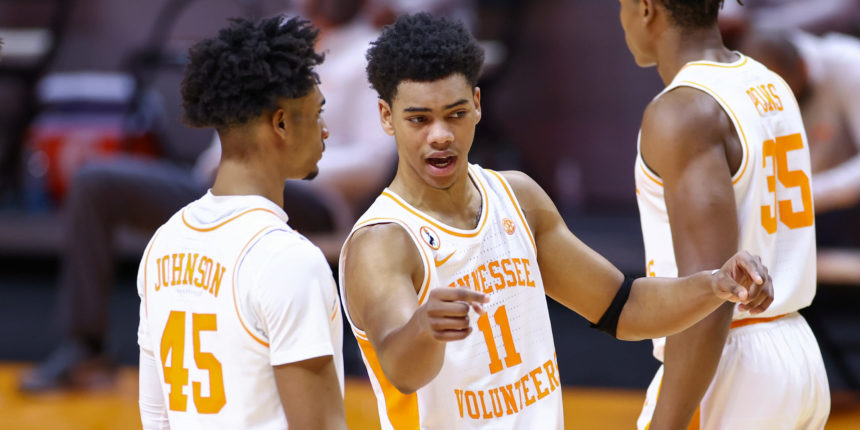 These two share a number of striking similarities. Johnson measured 6'4.75″ with 6'7.25″ wingspan, Springer 6'4.25″ with 6'7.75″ wingspan. Springer is beefier weighing in at 202 vs 185 pounds, while Keon has nuclear powered calves as he smashed the combine record for standing vertical leap by 2″ at 41.5″ with Nick Young and Kenny Gregory being 2nd at 39.5″. This is inflated due to him tanking his standing reach measurement by 3-4″, but the guy can nevertheless jump.
Statistically they also are near twins in many ways:
| | | | | | | | | | |
| --- | --- | --- | --- | --- | --- | --- | --- | --- | --- |
| | Age | USG | OR% | DR% | AST% | TOV% | STL% | BLK% | FTr |
| Keon | 18.8 | 26.8 | 4.8 | 10.9 | 20.7 | 22.4 | 2.5 | 2 | 0.409 |
| Jaden | 18.3 | 26.1 | 4.6 | 10.9 | 24 | 20.6 | 2.7 | 2 | 0.44 |
Springer is 6.5 months younger and had slightly more assists and fewer turnovers, but otherwise they are twins. And if that's not enough, check their distribution of shots per 100 possessions:
| | | | | | | |
| --- | --- | --- | --- | --- | --- | --- |
| | 2PA | 2P% | 3PA | 3P% | FTA | FT% |
| Keon | 16.8 | 0.492 | 4.1 | 0.271 | 8.5 | 0.703 |
| Jaden | 16.3 | 0.475 | 4.1 | 0.435 | 9 | 0.81 |
Both guys also love to pull up for mid-range shots. It is almost eerie how they are nearly the same exact player, except Springer has more offensive polish, strength, and youth while Keon can jump to the moon.
They should be likely be valued in the same tier, and it is outright crazy that ESPN mocks Springer at #29 currently. He will likely get picked higher in reality.
Springer
Intuitively, the younger guy with more polish seems like he should trade over, but Springer's creation is very ugly as he relies on heavy dribbling as he bullies his way for incessant mid-range jumpers. Johnson's creation is ugly too, but if he develops his skills over time, he has the athleticism to blow by his opponents for more easy buckets.
Springer's ideal path as an NBA player will likely be as a 3 + D role player like Gary Harris who plays as a secondary handler rather than a lead guard. They are similar physically with the only difference being Springer 1″ longer, so let's make Springer sandwich with Gary Harris's two college seasons:
| | | | | | | | | | |
| --- | --- | --- | --- | --- | --- | --- | --- | --- | --- |
| | Age | USG | OR% | DR% | AST% | TOV% | STL% | BLK% | FTr |
| Harris | 18.3 | 20.6 | 3.7 | 6.2 | 9.8 | 15.2 | 2.8 | 0.7 | 0.298 |
| Springer | 18.3 | 26.1 | 4.6 | 10.9 | 24 | 20.6 | 2.7 | 2 | 0.44 |
| Harris | 19.3 | 25.4 | 4 | 10.2 | 16.8 | 12.7 | 3.4 | 1.6 | 0.312 |
Springer was the better FT shooter making 81% as a freshman vs Harris 78.8% over two years. But Gary Harris attempted more 3's at 9.7 per 100 as a freshman and 12.3 as a sophomore, making 37.6%, compared to a measure 4.1 3PA/100 for Springer.
Harris started as a good NBA 3 + D role player until he was plagued by injuries and stopped making 3's. Ideally, Springer wants to cut out his dribbling for mid-range jumpers and replace them with spot up 3's, which he should be able to do given his excellent FT% and youth.
Then the question is whether Springer can be better than Harris due to playing slightly bigger at a young age in terms of rebounds and blocks, and if his creation ability amounts to any substantial advantage. It is difficult to have much confidence in his creation, but he is so young it has to be valued as worth something.
In retrospect, Harris was a decent return on a 19th overall pick, and Springer is a slightly suped up version of Harris and it would make sense to value him as a late lottery choice
Johnson
Keon is more complicated to evaluate. Simple logic would be that a small guard with bad offense should not work out most of the time. The bad comp for him is Archie Goodwin:
Goodwin was 0.5″ taller and 2.25″ longer, and a good athlete in his own rite albeit not on Keon's level of elite athleticism.
| | | | | | | | | | |
| --- | --- | --- | --- | --- | --- | --- | --- | --- | --- |
| | Age | USG | OR% | DR% | AST% | TOV% | STL% | BLK% | FTr |
| Keon | 18.8 | 26.8 | 4.8 | 10.9 | 20.7 | 22.4 | 2.5 | 2 | 0.409 |
| Archie | 18.4 | 27.5 | 5.6 | 10.4 | 16.8 | 21 | 2.1 | 1 | 0.594 |
Granted, Archie slid to the late 1st at 29th overall and perhaps there was good reason for that. He shot 26.6% from 3 and 63.7% FT in college so perhaps GM's thought his shot was irreparably broken, maybe his athleticism did not inspire enough upside excitement, or maybe they did not believe he was committed enough to work and improve his game to invest a better pick.
If we look at lottery picks, Kris Dunn or Emmanuel Mudiay may seem like reasonable downside comps. Except Mudiay didn't have a college sample to compare to, and Kris Dunn was an even more limited offensive player than Johnson at the same age posting a similar efficiency (96 ORtg vs 95.5) on a far lower usage rate (16.3 vs 26.8). Dunn was a more natural PG, but because he couldn't score he wasn't a much more prolific passer than Johnson with a relatively minor advantage in AST% at 22.8 vs 20.6. Dunn improved substantially from his freshman to junior and senior seasons, but perhaps an elite athlete like Keon Johnson would have as well.
Now if we shift to positive comps, we can start with arguably the most nuclear athlete in the NBA: Russell Westbrook. Westbrook measured 1.25″ shorter but 0.5″ longer. Let's take his career per 100 possession stats at UCLA because his minute weighted age is similar to Johnson's:
| | | | | | | | | | |
| --- | --- | --- | --- | --- | --- | --- | --- | --- | --- |
| | Age | 2PA | 2P% | FTA | REB | AST | TOV | STL | BLK |
| Keon | 18.8 | 16.8 | 0.492 | 8.5 | 8 | 5.7 | 6 | 2.5 | 1 |
| RWB | 19 | 15.2 | 0.491 | 6.9 | 6.9 | 7.3 | 4.5 | 2.9 | 0.3 |
Russ is clearly a more natural point guard, with a better assist rate, lower turnover rate, and more steals. This is with sharing the load with Darren Collison, and he likely could have done even more playmaking if he had complete control of the offense during his sophomore year.
But Keon played slightly bigger, with more rebounds and blocks, and scored a slightly higher volume, had a slightly higher 3PA rate (4.1 per 100 vs 3.8) and FT% (70.3 vs 68.5). These are relatively small advantages compared to Westbrook's more natural floor general skills, and it is difficult to imagine a version of Westbrook that is less point guardy but slightly better in other areas would look like. But it would be something, to say the least.
Another comparison may be surprising. Brandon Roy was not drafted until he made significant leaps as a junior and senior, and he measured 1.5″ taller and 0.75″ longer than Johnson. But he had a surprisingly rocky start to his NCAA career that parallels to Johnson. His 224 minute freshman sample was really bad, so let's compare his sophomore season to that of Keon:
| | | | | | | | | | |
| --- | --- | --- | --- | --- | --- | --- | --- | --- | --- |
| | Age | 2PA | 2P% | FTA | REB | AST | TOV | STL | BLK |
| Keon | 18.8 | 16.8 | 0.492 | 8.5 | 8 | 5.7 | 6 | 2.5 | 1 |
| Roy | 19.4 | 15.8 | 0.505 | 7.8 | 9.5 | 5.9 | 4.9 | 2.2 | 0.7 |
Roy's shooting signal looked similar as well, as he made just 9/37 3's and 72.1% FT in his first two seasons at UW.
His extra SG size cannot be ignored, nor can his massive leap over the two following seasons as well as a better than expected NBA translation. But Johnson is the clearly better athlete between the two, and it's probably worth something to note that how similar they were at a young age.
The other elite athlete to pop up as a statistical comp is Zach LaVine. LaVine is 1″ taller and longer, and played a different role in college as more of a spot up shooter with Kyle Anderson, Norman Powell, and Jordan Adams leading the UCLA offense. LaVine was arguably the worst player in the NBA as a rookie, but through hard work and elite athleticism he made an all-star team.
Ultimately, it's complicated for Keon Johnson. On one hand, it seems that his offense is far too inefficient to fit in the NBA as a little guy. But then when you dig through past examples, the high tier athletes who fill up the stat sheet decently enough in all categories like Keon tend to make greater progressions than expected. But there isn't one truly satisfactory comp to look back on, and it is difficult to envision his NBA role. His size limits his defensive versatility, and while he has some PG skills it is difficult to see him blossoming into a true floor general.
It is difficult to get excited by the idea of drafting him, but it is similarly difficult to criticize the idea of drafting him once the top tier guys are off the board.
Springer is more simple because he has more polish and fits more of a role player mold, and it is easier to see him fitting into an NBA lineup. But he likely doesn't have the same upside tail as Johnson.
These guys are both fairly weird. It is difficult to say which one should be valued higher with any confidence, as both belong in a similar tier. It seems fair to value them in the back end of the lottery as the 2nd and 3rd best small SG's in the draft.
James Bouknight #8 ESPN
Quentin Grimes #28 ESPN
Grimes is 0.5″ taller at 6'5.25″ vs 6'4.75, Bouknight is 0.25″ longer at 6'8.25 vs 6'8, and Grimes has an extra 15 pounds of beef at 205 vs 190 pounds.
Bouknight is rated much higher for his superior off the dribble creation ability, whereas Grimes is more of a pure spot up shooter.
Grimes has had a particularly interesting career arc. He started his NCAA career in Kansas as the #8 RSCI recruit, and after a dreadful freshman year transferred to Houston where he had a solid sophomore season. After shooting a pedestrian 33.3% 3P and 64% FT to start his career, his shooting completely blasted off as a junior making 40.3% of his 3PA on a massive 15.3 3PA per 100 possessions, and backed it up with a 78.8% FT. He also saw significant leaps in rebounds, steals, and blocks.
It is generally prudent to be wary of taking major NCAA leaps at face value due to small sample noise, but then Grimes proceeded to be the best player on the floor in the two combine scrimmages by a comfortable margin.
In two games, he was able to make 9/16 from 3 in 50 minutes of play, as he showed off a lightning fast release to go with good off ball movement and a good step back 3. He also showed off impressive athleticism, a bit more drive and dish game than he did at Houston, and he abused Austin Reaves off the dribble on a couple of occasions. His defense looked solid, he moves his feet well, his frame makes him difficult to push around, and he seems to have decent awareness. Everything about him looked good, and he should find a role in the NBA as a 3 + D role player.
Granted, this was only two games of unorganized basketball, but it appears that Grimes is finally living up to his top 10 recruiting hype. Between his combine performances and RSCI, it seems relatively safe to take his breakout junior season at face value.
Bearing this in mind, Grimes and Bouknight have some interesting similarities in terms of box score production this past season:
| | | | | | | | |
| --- | --- | --- | --- | --- | --- | --- | --- |
| | Age | OR% | DR% | AST% | STL% | BLK% | FT% |
| Grimes | 20.7 | 5.4 | 14.1 | 12.7 | 2.6 | 1.1 | 0.788 |
| Bouknight | 20.3 | 5.4 | 15.1 | 12.8 | 2.2 | 0.9 | 0.802 |
Defensively they both do fairly well for their position, but Grimes eye tests as slightly better and his stronger frame makes him difficult to push around. If one prospect gets a slight edge for defense, it is Grimes.
This brings us to the more complicated offensive comparison per 100 possessions, where we will include Grimes' sophomore season to get a feel for his junior transformation:
| | | | | | | | |
| --- | --- | --- | --- | --- | --- | --- | --- |
| | Age | 2PA | 2P% | 3PA | FTA | AST | TOV |
| Grimes '20 | 19.7 | 11.3 | 0.538 | 9.2 | 7.4 | 5.5 | 5 |
| Grimes '21 | 20.7 | 10.9 | 0.41 | 15.3 | 7 | 3.6 | 3.4 |
| Bouknight | 20.3 | 18.3 | 0.528 | 9.5 | 10.3 | 3.4 | 5.3 |
As a sophomore, Grimes was more of a playmaker who created more for his teammates and drew more free throws, but still had a fairly high turnover rate for a guy who did not create Bouknight's scoring. As a junior, he fully embraced his role as a spot up guy and focused on getting as many 3PA as possible.
Bouknight may be best served to make a similar adjustment to his offensive approach. While he is capable of creating his own shot at the rim and finishing, he is not particularly efficient at it as he has a rudimentary handle and is prone to playing slightly out of control.
He nevertheless creates an impressive volume of 2PA that he converts at a good %, but this is largely due to cuts, putbacks, and transition play. If he is collectively creating an extra 7 2PA and 3 FTA compared to Grimes at a higher %, but at the cost of ~2 TOV and ~6 3PA without any additional assists is that really a favorable tradeoff? Do you really want your tunnel visioned and slight framed 6'5″ guard consistently trying to score inside arc against NBA defenses instead of playing within the flow of the offense and getting off a massive volume of 3PA?
It's a difficult question to answer. Bouknight still is a more natural scorer with a better career FT% than Grimes (80% vs. 70%). And he does play well off ball. If he is willing to transition to more of an off ball player in the NBA, and finds a way to get off a big volume of 3PA, he should surpass Grimes offensively.
Bouknight could also make his shot creation work, but that is an extremely dicey proposition for a guy who had such a poor assist:TOV ratio at age 20 and is merely a good athlete as opposed to nuclear like Jalen Green or Keon Johnson. At this stage, his on ball play is more likely to be a bug than a feature.
Bouknight is a confusing guy, as he does a number of things well and it is easy to see him being useful to an NBA team. But it is hard to see a big upside tail for him, and things can go wrong if he tries to force the issue too much against bigger and more athletic NBA defenders.
Summary
Grimes gets a tiny edge on defense, and has figured out how to play an offensive style tailor made for an NBA role player which makes him a safer bet on offense. Bouknight has more longterm upside on offense, but is currently a chaotic ball of energy that needs to be refined and could prove to be frustrating on that end.
Ultimately, Bouknight is a weird guy who is difficult to pin down. It is difficult to know how his offense will translate to the NBA, and how good he can really be in his best case. But it is tough to see his star upside, and it is unclear whether he is actually a better prospect than Grimes.
The safest thing to say here is– why pick Bouknight in the mid-lottery when you can have Grimes in the late 1st?
I would currently rank these two not too far behind Springer and Johnson as the #4 and #5 SGs in the draft that belong somewhere in the mid-1st.
Josh Christopher (#34 ESPN)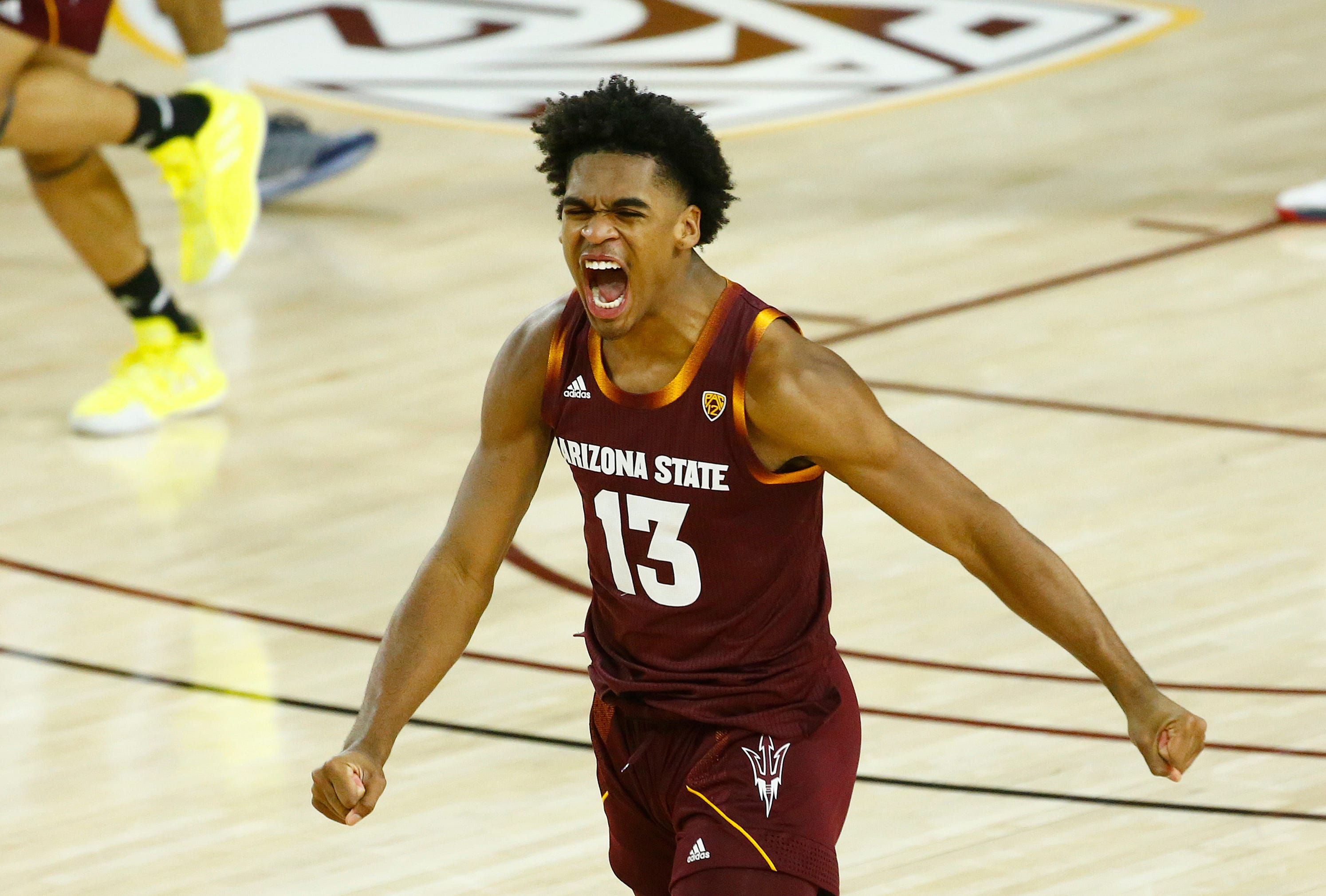 Christopher is the discount version of Jalen Green, as he was the #10 RSCI freshman this past season.
He is not quite the athlete, passer, or shooter that Green is, but he is an impressive athlete in his own rite. You can see the offensive disparity with Green being better across the board in spite of playing the tougher schedule in the G League:
| | | | | | | | | |
| --- | --- | --- | --- | --- | --- | --- | --- | --- |
| | Age | 2PA | 2P% | 3PA | 3P% | FT% | AST | TOV |
| Green | 18.9 | 9.9 | 0.550 | 7.3 | 0.358 | 0.786 | 3.8 | 3.4 |
| Christopher | 19.1 | 10.5 | 0.496 | 5.3 | 0.305 | 0.8 | 2.6 | 3.2 |
Christopher atones by being functionally larger with ~1.5″ more length and ~35 pounds more muscle, and functionally playing bigger:
| | | | | |
| --- | --- | --- | --- | --- |
| | OR% | DR% | STL% | BLK% |
| Green | 1.9 | 11.6 | 2.4 | 0.8 |
| Christopher | 2.4 | 16.2 | 2.7 | 1.9 |
Again, not a perfect comparison in terms of league difficulty, but NCAA and G League are close enough such that it seems fair to give Christopher the edge here.
Green's superior offense and athleticism should weigh significantly heavier than Christopher's size advantage. But this doesn't seem like such a blowout to justify the difference between a top 3 overall choice and a 2nd round pick.
Christopher should be valued somewhere in the back end of round 1.
Ayo Dosunmu #32 ESPN
Ayo is a good handler and passer for a SG, and could pass for a big PG as much as a small SG at 6'5″ with 6'10.25″ wingspan.
His limitation is that he is not the quickest or most explosive guard, and could end up getting beat often on defense while struggling to get to his spots offensively.
But he has a nice intersection of size, skill, and athleticism, and it wouldn't be surprising to see him develop into a Spencer Dinwiddie caliber role player. He is worth a shot in the late 1st.
Bones Hyland #30 ESPN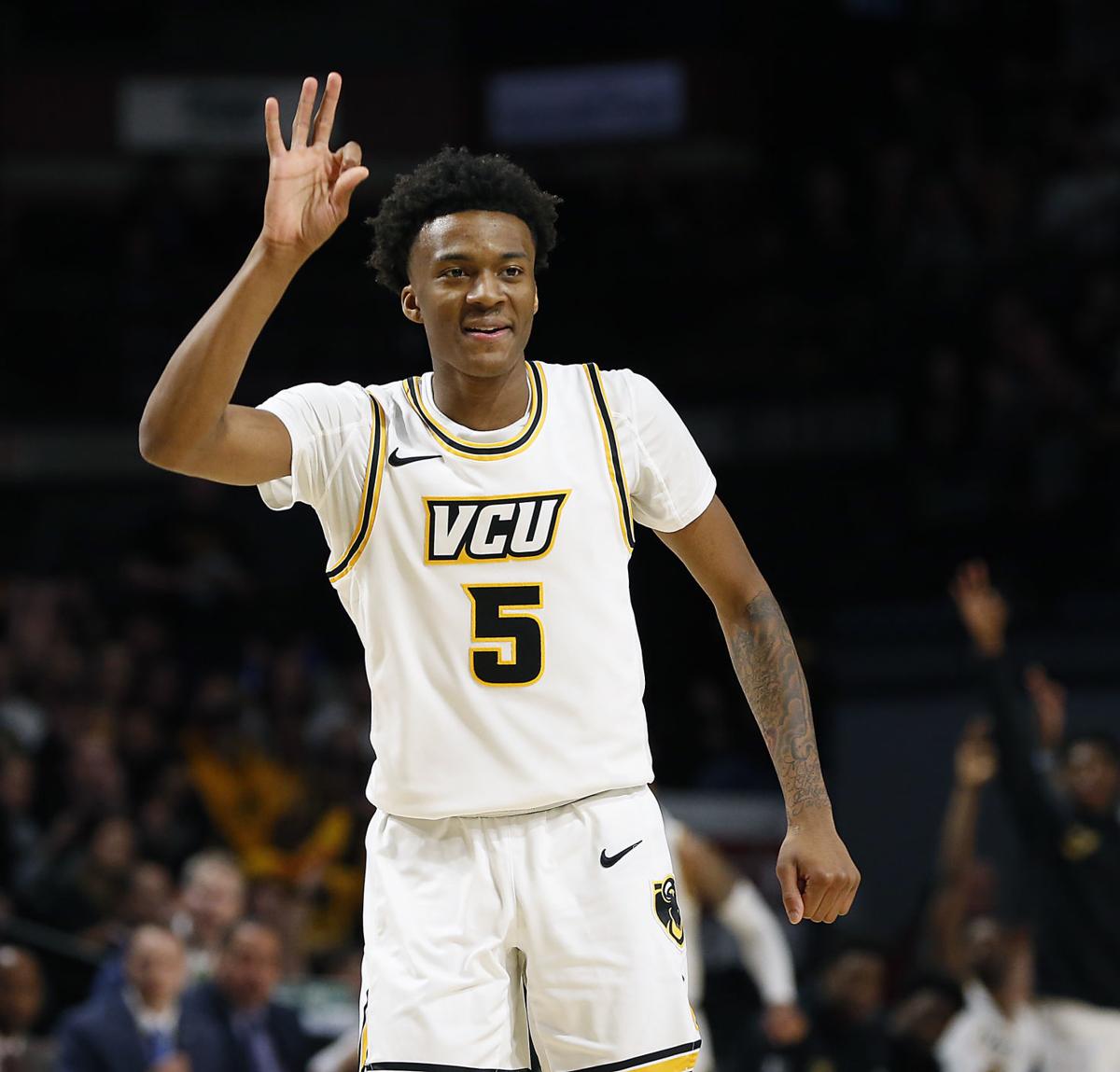 Bones is a unique guy. He is an excellent shooter, and is capable of getting off shots at high volume and efficiency. In his two years at VCU, he averaged 13.8 3PA per 100 possessions making 39.9% while backing it up with 82.7% FT, and he also was effective scoring in his one game at the draft combine.
He measured only 6'3.5″ in shoes and weighs 169 pounds, which makes his size a significant concern. But he has a 6'9.25″ wingspan, and excels at making plays with his length to give himself a chance of hanging defensively.
His other concern is that he is not the most natural with the ball for a little guy. When he was asked to increase his usage rate from 21.1 to 28.6%, his assist to turnover ratio took a dive from 1.58 to 0.68. And he did not look particularly better off the dribble in the NBA combine scrimmage.
His flaws are scary, but he has some unique strengths to make him an interesting flier in the late 1st or early 2nd.
David Johnson (#40 ESPN)
Johnson is only 6'4.75″, but he has a nice 6'10.5″ wingspan to go with a solid frame and good athleticism.
He showed loads of promise as a freshman bench player, including a monster game at Duke. He looked like he may be in the discussion for a lottery pick entering his sophomore season, but he just couldn't figure out how to do offense as his usage dropped and he saw major declines in his 2P% (54.5% to 42.6%), assist rate (35.9% to 18.8%), and FT rate (.278 to .183).
If there was a glimmer of hope, he did show a capable outside shot making 38.6% from 3 and 70% from FT after looking relatively busted as a freshman.
In the combine scrimmage he showed off impressive passing in his first game but was hesitant to attack off the dribble, and then he didn't play the second game.
There's a good chance he can't handle well enough to make it in the NBA. But if his sophomore season was some fluke affected by COVID, and he figures out his handling, and his shooting comes around, he has a tantalizing combination of physical tools and vision for round 2.
He is a bit of a longshot, but there is some nice home run upside for a 2nd rounder. He is arguably even worth considering in the late 1st.
Cam Thomas #25 ESPN
Thomas is a unique guy, as he is exceptionally good at scoring without contributing anything else to the team. He might have the record for the highest ratio of points per game to the sum of rebounds, assists, blocks, and steals of any player who has ever been drafted. Based on a quick and dirty search that is probably not comprehensive, here is a list for comparison from the past 20 years:
| | | | | | | | | |
| --- | --- | --- | --- | --- | --- | --- | --- | --- |
| Prospect | Year | Pts | Reb | Ast | Stl | Blk | RABS | Ratio |
| Cameron Thomas | FR | 23 | 3.4 | 1.4 | 0.9 | 0.2 | 5.9 | 3.90 |
| John Jenkins | JR | 19.9 | 2.9 | 1.2 | 0.8 | 0.3 | 5.2 | 3.83 |
| John Jenkins | SO | 19.5 | 3 | 1.2 | 0.8 | 0.3 | 5.3 | 3.68 |
| Jodie Meeks | JR | 23.7 | 3.4 | 1.8 | 1.3 | 0.1 | 6.6 | 3.59 |
| Seth Curry | SR | 17.5 | 2.5 | 1.5 | 0.9 | 0.2 | 5.1 | 3.43 |
| Salim Stoudamire | SR | 18.4 | 2.3 | 2.2 | 0.8 | 0.1 | 5.4 | 3.41 |
| Malik Monk | FR | 19.8 | 2.5 | 2.3 | 0.9 | 0.5 | 6.2 | 3.19 |
| Joe Young | JR | 18.9 | 2.8 | 1.9 | 1.3 | 0 | 6 | 3.15 |
There's a clear brand here– little guys who can shoot and do not much else. Meeks and Curry have had careers as NBA role players so he can be something. But overall this list is fairly weak, and Thomas may not buck the trend as he is probably 6'2 or 6'3″ and one of the worst defensive players in the draft.
His closest comparison is Malik Monk, and he is a slightly worse pull than Monk who was ranked a bit higher RSCI at #9 vs #22 and at least had the excuse that maybe John Calipari was suppressing his numbers, as he showed more hope as a passer and shot blocker.
Thomas does have good wingspan (measured 6'6″ in 2019) and frame and if he does start caring about defense and becomes passable, he can fit in some NBA lineups that have a bigger shot creator as a more athletic Seth Curry. There is something to be said for him to have scored so much as a freshman, and he did so with a microscopic turnover ratio while making 88.2% FT. So he may be a justifiable choice around the turn of round 1.
But it's just so hard to win with this brand, as historically it either ends in complete bust or flawed bench player, so he probably belongs moreso in early round 2 than late round 1.
Chris Duarte #22 ESPN
Duarte is the senior citizen of the draft, having turned 24 in June.
He fits a nice 3 + D archetype, and he can possibly give whoever drafts him a rotation player for cheap for 4 years as his rookie deal will essentially cover his prime.
But he is so limited with the ball and so low upside, it is difficult to see how he is adequate value for round 1. His best comp is likely Damion Lee who went undrafted and was acquired on the cheap by Golden State, and still was cheap to retain after finding a rotation role.
Searching for a cheap 8th man is such a suboptimal use of a late 1st round pick when there are guys who can be better right away and solid for years to come still on the board.
Duarte did do really well for Oregon and can be a bit better than Lee, and is likely fine in round 2. But capping your upside this badly in round 1 is just wrong. You can find similar caliber pulls to fill out the bench on the scrap heap and aim higher with your first round pick.
Josh Primo #26 ESPN
Primo is very young, not turning 19 until December. But he is also very bad at basketball, and his first round hype is not justified.