Tags
Cameron PAyne, Devin Booker, Frank Kaminsky, jordan mickey, Norman Powell, rashad vaughn, rj hunter, Rondae Hollis-Jefferson, Sam Dekker, terry rozier, Trey Lyles, Tyus Jones
13. Rondae Hollis-Jefferson (Final Big: 9th, Drafted: 23rd)
RHJ has the best overall tools of any wing in the draft, as he boasts elite athleticism with a 7'2″ wingspan and elite frame. As expected, he badly struggled offensively in SL and pre-season as he's nowhere near an NBA 3 point threat and doesn't have the handle to do much off the dribble. After shooting 5/21 from 3 in summer league, he didn't attempt a single 3 in 85 pre-season minutes, which is a bad sign.
His strengths stood out as much as his weaknesses though: he racked up loads of steals, blocks, and rebounds while posting slightly more assists (27) than turnovers (25) in the combined summer league and pre-season sample. He's such an elite and versatile defensive player he has awesome upside if he somehow develops a 3 point shot. As it is, he looks like he will be an MKG type with less inside the arc scoring. He has a long way to go to fit in offensively, and Brooklyn is not the sharpest team to put him in a position to succeed on that end.
His tools and defense are so outlier good I remain fond of him. Any level of passable offense can make him a highly useful NBA player.
14. Devin Booker (Final Big: 22nd, Drafted: 13th)
Booker is a weird player to evaluate. He's one of the youngest players in the draft and could become one of the most accurate shooters in NBA history. But he has not gotten off a huge volume of 3PA in college, SL, or pre-season. He has short arms and his trigger isn't the fastest, so his volume of 3PA may always be light.
The most interesting comparison for Booker is Arron Afflalo, as they share similar surprisingly low output in 3PA rate, rebounds, steals, and blocks. Booker is a superior draft prospect to Afflalo, and a rich man's Afflalo is obviously a useful player. It's just not teeming with upside, and Booker needs to find his calling card to exceed that.
Booker has a surprisingly decent handle, moves reasonably well, and is super young (doesn't turn 19 until Oct 30) so he has potential to develop a much more diverse and efficient offensive repertoire than Afflalo. Phoenix's hope is that if he works diligently, he has a sliver of equity to become a Ray Allen or Reggie Miller type down the road. It seems like a long shot since he is currently so far away, but it cannot be completely ruled out since time is on Booker's side.
15. Frank Kaminsky (Final Big: 10th, Drafted: 9th)
Frank the Tank had a disappointing pre-season, converting just 34% of his 2PA (13/38). This follows a decent but unspectacular 46% (21/46) in summer league. His most common comparison of Kelly Olynyk dominated both samples shooting 67% in SL (34/51) and 57% PS (28/49) as a rookie. These small samples do not mean that Kaminsky cannot be as good or better than Olynyk, but it dims his upside as he should be held to a higher standard than his younger, rawer, and more athletic peers.
16. Sam Dekker (Final Big: 19th, Drafted: 18th)
Dekker struggled to make outside shots in his 148 pre-season minutes, but otherwise performed decently. He should be a nice fit in Houston, as he can play both SF/PF and pairs well with both Howard and Capela as a stretch 4. Also, being surrounded by shooters should help his slashing game as he has the athleticism to get to the rim and the size to finish.
Dekker's parallels to Chandler Parsons are hard to ignore, as they have similar size and college shooting %'s (Dekker: 59%/35%/70% two/three/FT vs Parsons 58%/34%/61%). The key advantage for Parsons is his PG skills, as he had more advanced handles and a much higher NCAA assist rate. But Dekker is a bit more athletic, and if he develops into a reliable NBA 3 point shooter like Parsons he could become a decent offensive weapon in his own rite.
17. Trey Lyles (Final Big: 15th, Drafted: 12th)
Lyles showed some positive signs pre-season (14/29 2PA and 6 AST vs. 4 TOV), but he struggled in his larger summer league sample and was dragged down by his inability to make 3's in both samples. After shooting 4/29 from 3 in college, he made just 6/27 in pre-season and summer league and needs significant improvement to justify his lottery selection.
In the instance that Lyles does become an adequate 3 point shooter, he's an interesting piece. He has a nice first step and handle, and a stretch 4 who can also slash from the perimeter is an intriguing piece. But since he's not that explosive, he often pulls up for floaters when his drives get cut short. He has good offensive upside, but he still needs a fair amount of polish on that end for a player who will likely be a defensive liability.
18. Cameron Payne (Final Big: 23rd, Drafted: 14th)
19. Tyus Jones (Final Big: 17th, Drafted: 24th)
In the high skill low tools PG category, I could never reconcile how Payne's stock rose so much higher than Jones. Jones was the #4 RSCI recruit, he won MOP of the final 4, and almost every stat model rated him higher than Payne. Yet Payne went 14th to a team that normally drafts well, and Jones was passed on by a number of good GM's as he slid all the way to 24th. Payne has slightly better physical tools with 2 inches great length and superior quickness, but he still doesn't have the body or burst of a prototypical NBA PG.
I believe Payne vaulted ahead of Jones simply because he stylistically looks more impressive. He has a better handle and has more shake to overcome his lack of burst. He can also make a number of difficult shots of the dribble from pull-ups between pull ups, stepbacks, and floaters. Payne also plays with a swagger that is intoxicating to watch when he is running well. In contrast, Jones is more of a steady hand guiding an offense that surrounded him with elite talent. Stylistically he was much more boring, as he thrived off of avoiding mistakes and making open shots.
On one hand, Payne has a bit more meat in his game to build around as a primary ball handler, so his advanced standing may be justified. On the other hand, Jones is 1 year 9 months younger and has time to catch up, and it is possible that Payne earned more attention simply because he has a fun factor to his game that will not translate into NBA success. I am not sure which side of the argument is truer, and neither player received enough playing time in pre-season to shed much light on the subject. This comparison will be interesting to re-visit in a few years.
20. Justin Anderson (Final Big: 18th, Drafted: 21st)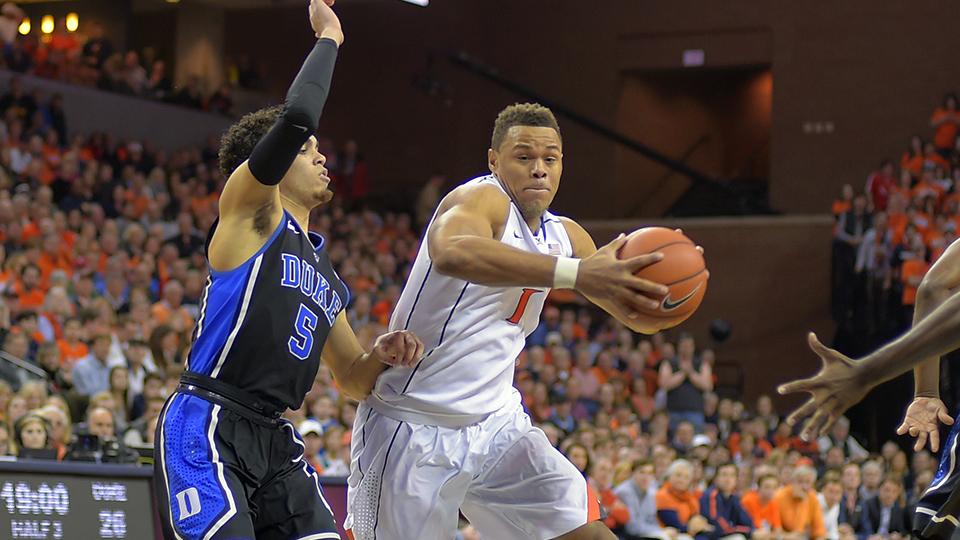 After a terrific summer league, Anderson had a horrid pre-season on the Mavericks' depleted roster. With a lack of shot creation on the team, Anderson struggled to make 3's (4/25) and had a poor assist to turnover ratio of 7 to 16. He gets a bit of a pass because the entire team struggled, and he does fit the 3 + D archetype rather well. He isn't the defensive beast that Rondae Hollis-Jefferson is, but he nevertheless has good D potential and is a much easier fit into NBA offenses with his superior shooting.
21. Kevon Looney (Final Big: 13th, Drafted: 30th)
His injury means no instant gratification but rookies are terrible anyway. He should be worth the wait for the value he provides at 30th overall. His main concern is that his lack of explosiveness and ball handling prevent him from living up to his statistical adoration.
22. RJ Hunter (Final Big: 25th, Drafted: 28th)
Hunter struggled to score in pre-season, but other than that he crushed the eye test. He has a great passing ability, and played good defense for a rookie showing solid fundamentals and using his length to create a whopping 11 steals in 132 pre-season minutes. He racked up impressive steal and block totals playing in Georgia Stat's zone defense, and it's encouraging that he has transitioned nicely to man to man at a higher level. Hunter should have a career in the NBA as a prototypical 3 + D wing, and could end up finding rotation minutes as a rookie for the Celtics.
23. Jordan Mickey (Final Big: 38th, Drafted: 33rd)

Mickey has been one of the biggest surprises of the pre-season, leading all rookies in PER. Granted, his 68 minutes largely came against garbage units of the Knicks, 76ers, Nets, and foreign teams, but he looked good and earned praise from Brad Stevens.
Mickey is one of the funkier prospects in the draft– he has excellent quickness, athleticism, and length, and is a good shot blocker. He is extremely versatile and has loads of defensive upside in a scheme that switches heavily.
His problem is that at 6'8″ he lacks height to play center, and he lacks the passing ability and shooting range to play PF. He didn't show much promise in these areas with 6 assists and 1 3PA in 293 combined minutes between summer league and pre-season. But he did show potential as a pick and roll finisher with surprisingly smooth footwork and finishing, and he also has a respectable mid-range shot. Consequently he  scored with better volume and efficiency than expected in both summer league and pre-season.
Given trends toward smaller lineups and heavy switching, perhaps he can be a great defensive center in spite of his height. His other tools help compensate, and there aren't many centers who can really punish shorter matchups. His lack of passing and range inhibit his offensive upside and ability to fit in a wide range of lineups, but his strengths are unique and strong enough to overcome his warts. Pair him with a PF like Kelly Olynyk and give him a coach like Brad Stevens and his impact could be surprisingly good. I didn't think much of him before the draft, but he is quickly winning me over as a second round steal.
24. Jerian Grant (Final Big: 21st, Drafted: 19th)
25. Delon Wright (Final Big: 16th, Drafted: 20th)

As the oldest players drafted in round 1, these players have more pressure to contribute immediately to maintain their value as prospects. Grant was mediocre and Wright was bad, playing a meager 72 minutes while posting more turnovers (8) than assists (7) or 2 pointers made (7).
I liked both pre-draft, but with so many younger players outperforming them they get ticked down a few slots.
26. Terry Rozier (Final Big: 50th, Drafted: 16th)
Rozier is an undersized SG who atones with good length and athleticism to be a pesky defender at both guard positions. He doesn't have much in the way of PG skills, but he has been more than competent making 3's at 46% (18/39) between SL and PS. In other words, he's roughly an Avery Bradley doppelgänger which makes him a puzzling selection at 16th overall.
Danny Ainge gambled on him working hard enough to leverage his great first step into shades of a real slashing game, giving him theoretically high upside. His first step enables him to get past his man, but he doesn't have the handle or shake to consistently get past the help defense and he often pulls up for mid-range shots when his drive gets cut short. Incidentally his efficiency suffers, as he shot just 33% inside the arc in SL (19/58) and 43% in a smaller pre-season sample (9/21).
This sets him behind Avery Bradley, as he may match Bradley's mid-range volume at a much lower efficiency. A less efficient Bradley is not a useful player, so Rozier needs to drastically reduce his pull-up attempts and increase his layups to become a more useful player. In theory this is possible, but he looks very unnatural navigating through the teeth of a defense for a 21 year old. It's hard to envision a good work ethic being enough to turn this weakness into a strength.
I can see Rozier having a decent career in the league, but I just don't see the upside to merit a 16th overall selection.
27. Norman Powell (Final Big: 33rd, Drafted: 46th)
I rated Norman Powell as one of my top 2nd round sleepers before the draft, and he justified that rating with a great summer league and pre-season. He is a freak athlete with long arms who can get to the rim and play defense. If he ever develops an NBA 3 point shot he'll be a big time steal.
28. Nikola Milutinov (Final Big: 28th, Drafted: 27th)
I still haven't seen him play, but the Spurs drafted him– how bad could he be?
29. Larry Nance (Final Big: 32nd, Drafted: 27th)
I'm one of the few people who had him as acceptable value in the late first round, and this is why.

30. Josh Richardson (Final Big: 30th, Drafted: 40th)
I pegged Richardson as a 2nd round sleeper based on his defense, and he was a steal and blocks machine in SL/PS. He's not much of a scorer, but he moves the ball and if he learns to make NBA 3's he will have a career as a rotation player.
31. Chris McCullough (Final Big: 27th, Drafted: 29th)
This guy hasn't played in forever bc of a torn ACL but he was a 5 star recruit who got loads of stocks as a freshman so let's not forget him.
32. Rashad Vaughn (Final Big: 26th, Drafted: 17th)
The Good: He is super young and can get buckets.
The Bad: He doesn't do anything else. In 139 pre-season minutes tallied just 9 rebs, 6 assists, 0 steals, and 0 blocks.
His tools are pedestrian with a 6'7″ wingspan and not great athleticism, so it's hard to get too excited about his one dimensional scoring.
33. Jarell Martin (Final Big: 34th, Drafted: 25th)
Martin missed the entire pre-season with a broken foot. He didn't seem like a great value at 25th overall to begin with, so it's hard to feel excited for him. He is athletic and his LSU teammate Jordan Mickey looked better in an NBA system, so maybe Martin translates better than expected too.
34. Montrezl Harrell (Final Big: 36th, Drafted: 32nd)
Harrell was an effective garbage man in SL and pre-season, I'm just not sure how much it matters. He only attempted 1 three in spite of wearing a Houston uniform, and he doesn't have the defensive aptitude to play center. I don't see how he he fits next to Howard or Capela, so this was a semi-odd pick to me. I suppose Morey just decided to draft his top player and sort out the details later.
35. Richaun Holmes (Final Big: 37th, Drafted: 37th)
36. Pat Connaughton (Final Big: 44th, Drafted: 41st)
37. Cedi Osman (Final Big: 48th, Drafted: 31st)
38. Arturas Gudaitis (Final Big: N/A, Drafted: 47th)
39. Christian Wood (Final Big: 25th, Drafted: undrafted)
40. Branden Dawson (Final Big: 27th, Drafted: 56th)

Here are some guys to round out the top 40 since 34 is a weird amount of prospects to rank. Christian Wood might make the 76ers' roster to the delight of draft nerds, as bad interviews caused him to go undrafted in spite of a profile that made him a clear 1st rounder.